Date: 14 May 2018
Venue: Ambassador's Residence
Organiser: Swiss Education Group www. swisseducation. com
Audience: Tourism and Education agencies in the Russian Federation.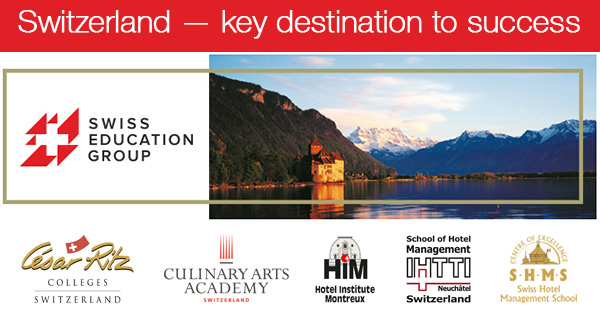 The event serves the purpose to showcase Switzerland as an attractive destination to get a high quality education in the area of hospitality management, tourism and restaurant business.
At the event the guests will have a chance to listen to expert speakers on the topics of:
Switzerland's No 1 Country in the World — what is the secret of success?
The country's unique position from the geographical, political, economic and cultural standpoint etc.
— Swiss Tourism
What makes Switzerland so attractive for tourism and studies?
Swiss Education — traditions and innovation.
What is Swiss education famous for — quality, research, practical aspect and closeness to the industry? Why is Switzerland in top 10 countries for education attracting students from all over the world? What are the benefits of studying in Switzerland for an international student?)
— Embassy of Switzerland
Swiss Hospitality Management and Culinary Education — what are the ingredients?

Swiss Education Group as a leading company offering higher education programs in a diversity of areas in hospitality — hotel and restaurant management, event management, sales and marketing of luxury goods, design and tourism etc.
The agenda of the event:
17:00 — 17:30 — guest registration and welcome drinks
17:30 — 17:45 — welcome speech by the organiser and introduction of the speakers
17:45 — 18:15 — Swiss Tourism
18:15 — 18:45 — Embassy of Switzerland
18:45 — 19:15 — Swiss Education Group
19:15 — 20:00 — reception and networking